In order to explore Barcelona in the best possible way, I'd say it's perfect to spend around three to five days in Barcelona, since the tourist attractions are located all over the city. In case you're just planning a day trip to Barcelona, I'll try to guide you through the city in the most efficient way. In this article you'll find some of my favourite places and attractions in Barcelona, along with directions that I created to explore Barcelona in one day in the best way.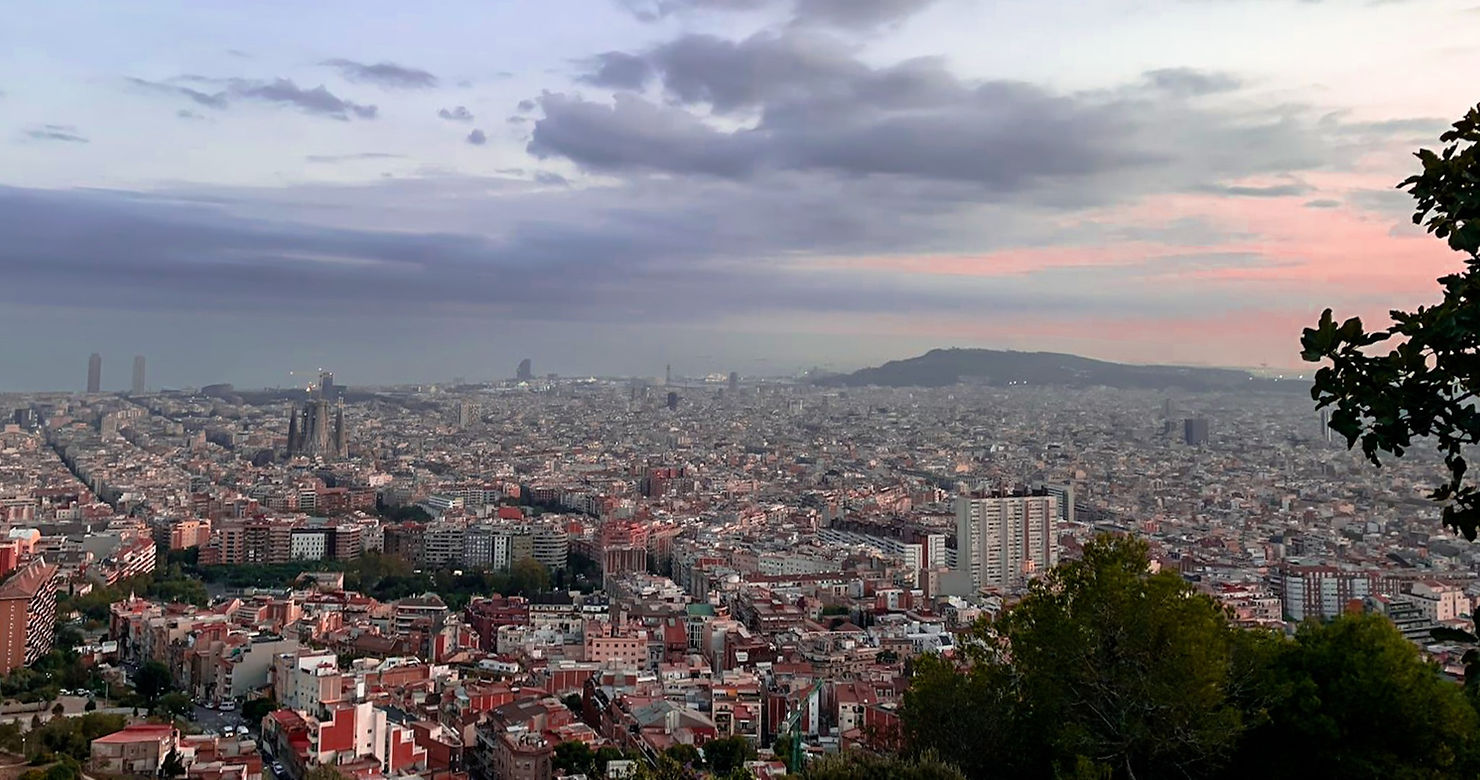 Tip: start the day by buying a T-Casual underground ticket for only €11,35 that's worth 10 rides on Barcelona's underground (can be used by multiple passengers), though it would normally cost €2,40 per single ride. At the bottom of this page, you'll find my (underground) directions that will guide you along the below listed six places in Barcelona.
#1 Sagrada Família
Underground station: Sagrada Família
Just like the Eiffel Tower in Paris and the Colosseum in Rome, the Sagrada Familia is the most popular tourist attraction of Barcelona. They started building the basilica back in 1882 and even Today's image of the Sagrada Familia includes cranes. The objective is to add the final tower in 2026. By then, the basilica should have a height of 170 metres.
Have a look at the impressive Sagrada Familia from all corners, as the basilica consists of different parts. The oldest part – which is based on Antoni Gaudí's drawings – is located on the side of the main entrance. Across the street you'll find Plaça de Gaudí, a park with a beautiful pond, which is the ultimate place to get your picture perfect of the Sagrada Familia.
Although I've been told that the basilica is absolutely gorgeous from the inside as well (yes, I've visited Barcelona over five times – yes, I've never actually been inside its main tourist attraction), I'd say it's best to fully admire the Sagrada Familia during a longer visit. Trust me, you're going to want to revisit the Sagrada Familia, as it's guaranteed that the basilica will look differently during your next visit since it's currently still under construction.
#2 Park Güell
Underground station: Alfons X
Another beautiful master piece by Gaudí. Though Park Güell is further away from the city center, it's totally worth the visit. Buy your ticket online in advance for around €10. This ticket includes the Alfons X – Park Güell shuttle service if you show your ticket at the bus stop, as well as exclusive access to the famous mosaic benches. Have you really been to Park Güell if you didn't post a photo on Instagram on the mosaic benches? (I personally don't have any proof as I lost all of my photos of that day, oops). From this spot, you'll be able to enjoy views all over Barcelona and even the Mediterranean in the back. Take your time to explore the rest of the park as well, Gaudí's unique style can be recognised in every corner.
#3 Barceloneta
Underground station: Barceloneta
After taking the bus back from Park Güell to Alfons X, it's time to take the underground to Barceloneta. Once you've arrived there, a walk along the harbor towards the boulevard follows, during which you can have a look at some quite impressive yahts that are stationed there. The sand of Barceloneta beach might have been sprayed on, but that doesn't take away the fact that Barceloneta has a chill beach vibe. Skip the tourist restaurants that you will most certainly be approached by on your way to the beach and take a seat at one of the bars at the beach instead. Bo Kaap is your place to go to if you're in the mood for some delicious patatas bravas and pan con tomate!
#4 Parc de la Ciutadella
Underground station: Arc de Triomf
Enjoy the walk from the beach through the fishing district back to Barceloneta's underground station. Instead of taking the underground again, walk for another 10 minutes to the south entrance of Parc de la Ciutadella, which is a beautiful city park where you'll encounter many locals enjoying a picnic on a sunny day. The Cascada Monumental is the main reason to visit this park, though just strolling around is worth it already. If you leave the park on the side of Passeig de Lluís Companys, you can squeeze in another hotspot: the Arc de Triomf. I only discovered this area during one of my last visits to Barcelona, but it's quickly made it to my list of favourite places in the city.
#5 La Rambla
Underground station: Catalunya
My personal experience is that La Rambla is a bit overrated and way too touristy, but it's still the most famous street of Barcelona, so it's basically a must if it's your first time in Barcelona. Other than that, La Rambla is located in a great area that offers lots of sights, so you'll probably just be in the neighbourhood anyway! To get to La Rambla, you take the underground from your previous stop (Arc de Triomf) to Plaça de Catalunya, from where you can explore the area by foot.
Combine your visit to La Rambla with Mercat de la Boqueria, which is one of the biggest food markets in the city. Palau Güell (another creation of – surprise, surprise – Gaudí) and the charming square Plaça Reial are located along the bystreets of La Rambla. Plaça Reial is a great starting point to further explore the Gothic Quarter. Barri Gòtic is one of the most popular neighbourhoods of Barcelona, thanks to its abundance of cute narrow streets and architectural sights such as the Cathedrale of Barcelona.
#6 Plaça d'Espanya
Underground station: Espanya
After taking the underground to from Plaça de Catalunya to Plaça d'Espanya, the first thing you'll see is the giant roundabout. Along this arterial road a former bullfighting arena is located, which has now been renovated into a great shopping mall. Even if you're not planning to shop, I can recommend you to pay a visit to the mall. Take the escalator to the top floor from where you can enter the rooftop to take in some amazing views. I always love escaping the hustle and bustle of a big city in places like this, while not being far removed from it.
On the other side of the roundabout you'll find the Palau Nacional. By day, this museum is quite photogenic already, but once the sun sets Palau Nacional is even more worth visiting. The fountain that's located in front of it is home to a magical light show right after sunset (depending on time of the year; usually on Thursdays, Fridays and Saturdays). Make sure you Google whether (and if so, at what time) this light show takes place at the day of your visit to Barcelona. A great way to end the day for sure!
Directions
Starting point: Sagrada Família
1) Sagrada Família
Station Sagrada Família – Station Verdaguer (8 min. walk or underground L5)
Station Verdaguer – Station Alfons X (underground L4)
Station Alfons X – Park Güell (shuttle bus)
2) Park Güell
Park Güell – Station Alfons X (shuttle bus)
Station Alfons X – Station Barceloneta (underground L4)
Station Barceloneta – Strandtent Bo Kaap (12 min. walk)
3) Barceloneta
Strandtent Bo Kaap – Parc de la Ciutadella (22 min. walk)
4) Parc de la Ciutadella
Parc de la Ciutadella – Arc de Triomf (4 min. walk)
Station Arc de Triomf – Station Catalunya (underground L1)
5) La Rambla
Station Catalunya – Station Espanya (underground L1)
6) Plaça d'Espanya
Looking for some more info about this popular holiday destination? Have a look at my other blog articles about Spain or fly along to another destination!
Do you have any questions about my travels or do you see a great opportunity to collaborate? Feel free to send me an Instagram DM or email (floraflies.nl@gmail.com).