San Blas Islands: all you need to know about the sailing trip between Colombia and Panama
1 May 2022
I think I can say this trip has been the highlight of 6.5 months of slow travelling around Latin America. In March 2022, I went on a five-night sailing trip from Colombia to Panama. The experience of living on a sailboat was incredible already. Not to mention, I got to spend three days island hopping on the San Blas Islands. It's an archipelago in the Caribbean Sea, just a 30-min speedboat ride from the north coast of Panama. Let me tell you everything you need to know before embarking on one of the most unforgettable adventures of your Latin America travels!
n
Flying or sailing?
n
Costs of the trip
n
What to bring
n
Itinerary
n
FAQ
n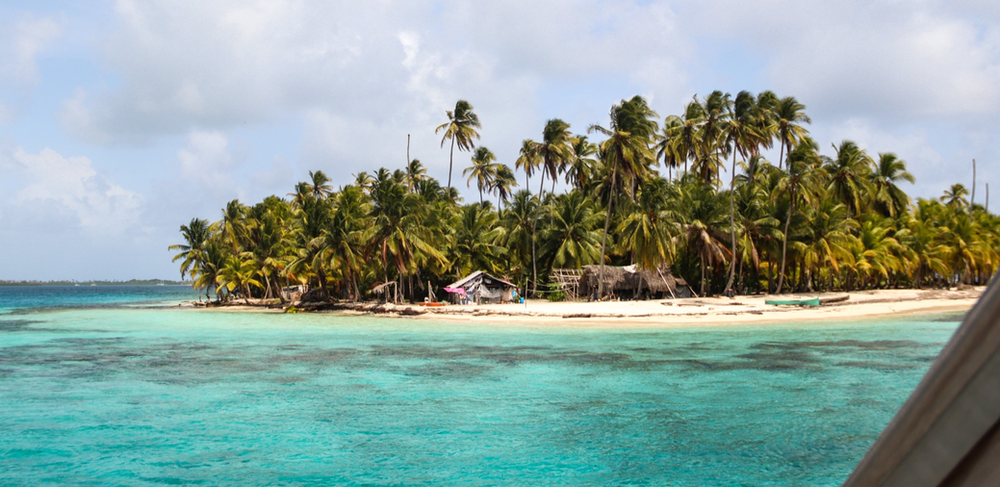 1) Flying or sailing?
The border of Panama and Colombia connects respectively Central America and South America. What's interesting about this particular border, though, is that there's no official road here, so there are no buses going back and forth either. This means that if you'd like to go from Panama to Colombia and vice versa, you've got to find another form of transportation. Flying would be the most obvious option, but how many times in your life do you get the opportunity to sail from one country to another? Whilst passing one of the most beautiful and relatively undiscovered island archipelagos of the world? Easy decision right…
nn
Well, if the costs of the sailing trip wouldn't be so high. Whilst travelling around Latin America, you'll probably hear about this trip from other backpackers who've done it already. You'll also hear lots of backpackers say they chose to fly from Panama to Colombia (or from Colombia to Panama), since they thought the sailing trip was too expensive.
nn
Here's what I think: yes, it's a lot of money if you're sticking to a travel budget like I was. Is it expensive, though? I don't think so. The sailboats are well maintained, there are at least three crew members on board (including a cook!), there are additional features on each boat (depending on the company and boat you go with, it could be: a speaker, a dinghy (small motorboat to go to other islands) and snorkelling equipment), and you've basically got your expenses of five days covered. Not to mention that you get an experience of a lifetime! Worth every penny. Let's see how many pennies we're talking about exactly…
n
n
n
2) Costs of the trip
I sailed from Colombia to Panama with Blue Sailing. There are several companies running this trip, but I believe they all have similar prices. Here's a breakdown of the costs.
nn
Colombia to Panama:
n
Sailing trip: 600 USD (includes 3 daily meals, water and coffee)
n
Grocery shopping beforehand: 0-40 USD (mostly depending on how much alcohol you'd like to bring)
n
Taxes to visit the San Blas Islands: 20 USD
n
Expenses on the San Blas Islands: 0-20 USD (coconuts, other drinks, souvenirs)
n
Motorboat from your sailboat to the north coast of Panama: 18 USD
n
Arranged transport from north coast Panama to Panama City: 25 USD
n
Total = 663 – 723 US dollars
nn
Panama to Colombia:
n
Sailing trip: 600 USD (includes 3 daily meals, water and coffee)
n
Grocery shopping beforehand: 0-40 USD (mostly depending on how much alcohol you'd like to bring)
n
Arranged transport from Panama City to your sailboat: 60 USD*
n
Taxes to visit the San Blas Islands: 20 USD
n
Expenses on the San Blas Islands: 0-20 USD (coconuts, other drinks, souvenirs)
n
Total = 680 – 740 US dollars
nn
* the place where your sailboat will be waiting for you may depend on the weather conditions, so this price can vary
nn
You book this trip by sending an email to Blue Sailing. After having settled the date of departure, they'll send you a payment request of 50 USD to confirm your spot. You pay the other 550 USD in cash, on the day of departure.
nn
n
n
3) What to bring
Assuming that you're travelling with your big backpack and a smaller daypack like I did, I would recommend putting everything you don't need in your big backpack, and just pack your small daypack for this particular trip. Your big backpack will then get stored onboard, and you'll get it back after the trip (if you really need something from your backpack during the sailing trip, you can obviously get it). This is what you need to bring in your small daypack:
n
3/4 T-shirts (one of them to wear during snorkelling)
n
n
n
n
n
n
n
n
n
n
n
n
n
dry bag (not necessary, but if you have one, bring it)
n
n
n
baby tissues (to feel a bit "fresher" without having a shower…)
n
eco-friendly sunscreen (preferably SPF 50+)
n
n
eco-friendly shampoo bar (on day 4, you might get the opportunity to shower with sweet water on the back of the sailing boat)
n
n
n
snacks (not too many, as the meals are filling)
n
rum (to create a coco loco: a coconut filled with coconut water and rum)
n
other (alcoholic) beverages (only water and coffee are provided onboard)
n
at least 70 USD in cash (see cost breakdown)
n
n
n
4) Itinerary
The precise itinerary depends on the weather conditions. I had relatively calm weather sailing from Colombia to Panama. This is what my trip looked like.
nn
Colombia to Panama
nn
Day 1
n
10 am: meeting up in the harbour of Cartagena to meet the crew and fellow passengers. Here you'll pay the 550 USD in cash, and you can exchange any leftover Colombian pesos for US dollars (the currency they use in Panama, and thus on the San Blas Islands). You can already drop off your big backpack that you won't be using, or you can decide to do this tonight.
nn
11 am – 7 pm: free time in Cartagena
nn
8 pm: meet up on the sailboat in the harbour again. Everyone gets the chance to do some grocery shopping or cash withdrawal in the supermarket nearby. The briefing will be done which includes information about safety, seasickness and what the upcoming days will look like. The beds will be divided too. After all these practical things, it's time to leave Cartagena between 10-12 pm! I went to bed at around 1 am, and fell asleep right before things got wavy.
nn
Day 2
n
You'll wake up in a moving bed on a moving boat; let's conquer the open sea! If you're as lucky as I was, there will be a group of dolphins swimming along! You'll spend the day getting to know your fellow backpackers on board, reading or listening to some music, or napping. Seasickness can occur, more about that in the FAQ.
nn
Day 3
n
Whoohooo, you've made it to the San Blas Islands! Depending on the weather conditions, you'll arrive here between 9 am – 2 pm. I got woken up at 8:30 am after the second night on the open sea, since we were already approaching the first islands this early. No more big waves from now on, time to enjoy paradise!
nn
Day 4
n
Your second day on the San Blas Islands. You spend these days island hopping, anchoring the sailboat in different spots. On the first two days in paradise, you've got the islands to yourself! Or well, let's not forget about the hospitable Gunas who live on some islands. They'll kindly welcome you to their home! Make sure to bring some cash so that you can buy a drink or souvenir from them.
nn
Day 5
n
The third and final day of island hopping. After lots of volleyball games, cocos locos, snorkelling and laughter, it's time to leave tomorrow. Not thinking about that just yet though, as you've still got a full day of joy ahead!
nn
Day 6
n
Time to wave the crew and the boat goodbye… bittersweet! You get picked up early (8 am) by a smaller motorboat, that will bring you and your backpack to the mainland of Panama. Drivers will be waiting for your group, to drive you to Panama City. Make sure to have exchanged phone numbers with your fellow sailing mates and crew earlier, so that you can exchange photos and videos, and stay in touch for further plans in Panama!
nn
Panama to Colombia
nn
I can't provide you with the itinerary from Panama to Colombia as detailed as the other way around, but keep in mind that you start on the San Blas Islands (as they're located only 30 min off the coast), and have to conquer the open sea to Colombia afterwards. I personally thought it was perfect that we first had the "tough" open sea part coming from Colombia, and could finish on a high on the San Blas Islands. Don't let this hold you back though, as I've only heard great stories from backpackers doing the trip from Panama to Colombia too!
n
n
n
5) FAQ
n
Is this trip recommendable for (female) solo travellers?
n
Absolutely! Depending on the boat you're sailing with, you're in a group of about 8-14 travellers. My group consisted of one couple, three friend duos, and six solo travellers. Everyone got along very well! You'll bond very quickly if you're all living on a boat for about 5-6 days, trust me… (;
n
n
What about seasickness?
n
Along with the price of the trip, seasickness is the main thing that holds travellers back from going on this sailing trip. I usually never get any type of motion sickness, but I have to say that day 2 was a bit of a challenge for me. The motion sickness pills helped me not get too nauseous. I took one on the first evening in Cartagena, one the next morning at breakfast (this one was much needed), and one in the evening again, so three in total! I could've taken an extra one on day 2, but they also made me feel very tired, so I decided not to.
nn
In the end, no one on our boat really got sick, which is rare! Sailing on the open sea from the San Blas to Colombia is supposed to be a bit rougher than the other way around, because of the direction of the wind.
nn
If I were you, I would just expect that you get seasick and accept it beforehand. In the end, it's only about 36 hours on the open sea, and the whole trip is just too amazing to let fear for those 36 hours hold you back! The motion sickness pills really help too, along with laying on the front of the boat while taking in the fresh air. Maybe you won't even get sick either!
nn
What I didn't expect beforehand, is landsickness. The two days after the trip (day 7 and 8), it felt like the ground was moving underneath me. When I was walking around in my dorm in Panama City, I had to grab my bunk bed to prevent myself from falling. It was as if I was still on the open sea, even though that was 5 days ago! The weirdest sensation.
n
n
What is it like to sleep onboard?
n
Considering I shared a tiny 2-person bed with a very tall friend of mine, I slept relatively well! On the first two nights, I easily fell asleep because of the motion sickness pills. I did get woken up frequently, either by the big waves that will move you in unpredictable directions or by fellow passengers who needed to go to the bathroom (which was located next to my bed).
nn
During the other three nights, the waves were peanuts compared to nights 1 and 2, as you're anchored in the calm sea of the San Blas. Don't expect lots of sleeping hours though, you'll probably wake up early every morning. Which is a good thing if you get to wake up in paradise!
n
n
Is there Wi-Fi or internet?
n
Nope! And I wouldn't want to have it any other way. For someone who spends a lot of time on her phone daily, it was amazing to just put my phone somewhere and not look back. Well, only for a photo or video from time to time then, because the views are gorgeous.
nn
There is internet on some of the San Blas Islands, but it's unreliable, and I didn't even search for it. Make sure to text loved ones beforehand though, to let them know you won't be receiving their messages in the upcoming 5-6 days. They can track your boat via the website of Blue Sailing, as there's a GPS onboard!
n
n
Which sailboat from Blue Sailing did you go with?
n
I went with the Ti Vaou, and I can highly recommend this boat*, especially if you're a solo traveller between 20-35 years old, looking to have a great time drinking beers and cocos locos with strangers who quickly turn into friends, while not getting too hungover to fully enjoy the beauty of the San Blas Islands!
nn
The Ti Vaou crew was amazing (they don't owe the boat, but usually work on the same one for a while). Captain Tote (José Miguel) made sure we had a safe trip, and he brought us to the most beautiful islands, along with Frank (aka Nene) and Mateo. Chef Oscar was the best cook and brought great vibes, as long as he'd peacefully had his first coffee in the morning. His own words. (;
nn
Not irrelevant, Ti Vaou is a catamaran, which means it's a bit more stable on the open sea than a regular sailboat! It has plenty of deck space too.
nn
*Keep in mind that you cannot choose your boat. All boats are scheduled on certain dates, so if you want to go on a specific boat, you have to be flexible! Just send Blue Sailing an email with the range of dates you'd be available to depart on, and they'll send you the information about which boats are departing on those dates.
n
n
What did you eat onboard? Are there vegetarian options available?
n
The meals were great! On day 1 you've got to have had dinner before the departure meeting time (8 pm in my case). From day 2 to day 5 you get three meals a day. On day 6 you get breakfast, and then it's time to leave.
nn
You can email any diet restrictions to Blue Sailing beforehand. I'm vegetarian, along with one other guy from my group, and we always got a very tasty vegetarian alternative. Breakfast was usually something sweet (oatmeal, sandwiches, fruits) or eggs. Lunch and dinner varied from pasta to soup to sandwiches to rice.
nn
Since the indigenous Guna community on the San Blas Islands eat fish daily (they have very limited sources on the islands), I had decided to make an exception for fish (being vegetarian and not eating fish) for this trip. We had fish for dinner twice (it's possible to get a vegetarian alternative again!), and having freshly caught fish was a nice experience!
nn
See what my sailing trip looked like through my IG story highlights called "San Blas I" and San Blas II"
n
n
n
Looking for some more info about this part of the world? Have a look at my other destinations in Latin America.n
n
Do you have any questions about my travels, or do you see a great opportunity to collaborate? Feel free to send me an Instagram DM or email (floraflies.nl@gmail.com).
About Flora Flies
About Flora Flies – I believe travelling can be a way of living. A way to develop yourself. As long as you create yourself that opportunity. Slow solo travel is my answer to that.